The heart-and-soul of our tour journeys are our Holy Land tour guides. All our guides have years of experience and are certified licensed guides who receive frequent praises from our guest's testimonials, "Our tour guide was a blessing," says Jeffrey Stentz. Our tour guides will lead you every step with amazing insight throughout a journey you'll never forget learning and experiencing the sites, history, amazing geography, culture, and religious theology of the places you've only dreamed about.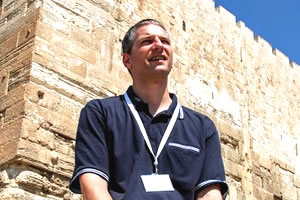 Jerry Lepre
Jerry was born in New Jersey, U.S.A., and grew up outside the Cleveland area. He served in the US military and was part of the United Nations in Bosnia, participating in Operations SFOR and Blue Shield.
He managed and owned several businesses both in Israel and America. He has now lived in Israel for more than eleven years and has an deep passion for the Bible, history, and ancient and modern cultures. Today Jerry lives in Modiin the city of the Maccabee's with his beautiful family including his wife and three children.
Jerry has a love for hiking all over Israel and has hiked more than half of the Israel Trails, that is over 900 km, including Mount Hermon the highest Mountain in Israel. Jerry also enjoy's cross country and exploring famous battle sites.
Location: Israel Tour Guide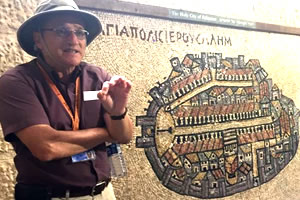 Mark Deckelbaum
Mark is originally from Montreal Canada and has been a Holy Land tour guide for over 20 years. He has lead many different types of tours to Israel, however Mark's specialty are Christian pilgrim tours due to his knowledge of the Bible and understanding how it relates to the Holy Land. The excitement he feels from our guests about the Holy Land always reinforces the reasons why he chose to live his life in Israel.
Mark has taken added courses dealing with Christian Holy Land tours to Israel. Mark also has experience with Jewish groups, businessmen, political tours, university groups, and individual pilgrims. Today Mark lives in Jerusalem with his wife and three beautiful children.
Location: Israel Tour Guide
Isaac Karasenti
Isaac provides over 24 years experience guiding tours in Israel. Since 1992 every tourist, pilgrim, and person traveling to Israel is very important.
Because he believes in this core value Isaac writes to us saying, "It's my duty and pleasure, to share with people that I lead, my love and passion for this land- the Land of Milk and Honey, and it's a privilege to make those who tour with me happy, satisfied and very good ambassadors of Israel."
Location: Israel Tour Guide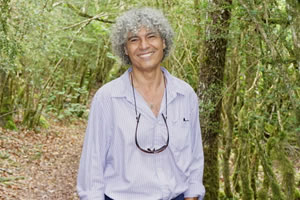 Tito Anidjar
Tito emigrated with his family 40 years ago from Casablanca, Morocco. Him and his wife have two boys ages 20 and 16 and they live in Tel Aviv. Tito's father native language is Spanish, and his mothers is French. He speaks several languages and of course fluent in English. After completing school Tito served 3 years as a tank driver in the Golan Heights with the IDF. At a young age of 21 Tito went to school to become a tour guide at the Ministry of Tourism school and has been a touring guide ever since. Over time Tito specialized in Christian pilgrims and Christian denominations and theology.
Location: Israel Tour Guide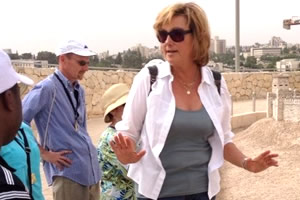 Marion Forster-Bleiberg
Marion is from Belgium and immigrated (made Alyah) to Israel in 1978 to study at Jerusalem's Hebrew University. She studied International Relations and English Literature and, after that, took the Israeli Ministry Guide course and received her tour guide license in 1984.
She became a Israel tour guide soon after graduating motivated by her passion for it's history, archeological sites, it's people, and the Land of Israel. Having the privilege of guiding many tourist it's this very passion which motivated Marion to share her love for Israel. After moving to Los Angeles, California where she lived for 12 years, Marion came back to Israel and continued with her true passion: sharing her love of Israel with tourist from abroad.
Marion has escorted and guided groups from all over the world and from many different backgrounds, both in French and in English, with a special emphasis both in current events and Christianity. Marion guides individuals, families, groups, and journalists and official delegations. Marion resides on the cost in Herzlyia and is married and has 2 sons, Daniel and Ariel. Her favorite places of Israel are the Golan Heights and the Judean desert.
Location: Israel Tour Guide
George Onsy
George was born in Egypt and is an Egyptologist. He earned his degree after studying four years in the Cairo Egyptian University. He also learned English at the American University in Cairo (AUC) to complement his tour guide education.
Ever since his graduation George has worked as an Egyptian tour guide traveling and guiding groups all over Egypt teaching and showing the magnificent history of his country. George welcome you to Egypt, where he is eager to guide you and teach you about the land he loves- Egypt with over 7,000 years of history and the most ancient civilization in the world, Where it all Began."
Location: Egypt Tour Guide