Be shepherds of God's flock that is under your care, serving as overseers-not because you must, but because you are willing, as God wants you to be; not greedy for money, but eager to serve; 3not lording it over those entrusted to you, but being examples to the flock. 4And when the Chief Shepherd appears, you will receive the crown of glory that will never fade away.

1 Peter 5:2-4
Group Benefits
Church Group Benefits include:
Dedicated Holy Land group specialist throughout entire process from beginning to end
Christian Tour Leaders & Pastors can tour the Holy Land complimentary (contact us for details)
Your congregation will benefit from discounted rates
Receive marketing material including custom church group flyer and dedicated website landing page on our site
Reservation services for best flights and airfare quotes for church group members joining tour
Your selection of our Signature Holy Land tour itinerary or customize and tailor make an itinerary specifically for your congregation needs
Your group will be lead with amazing Biblical insight and local knowledge with a dedicated private tour guide
You'll be provided with price quotes for your church, per guest, based on different number of group participants scenarios, and given assistance in pricing and planning your church group tour
You'll be backed and supported by us; 23 years in business, bonded for 1 million dollars, members of NTA, Better Business Bureau, and Faith Travel Association
For more Church group tours information, request a quote at no cost no obligation
Begin a tour group today contact us by E-mail or call toll free USA/CAN 1 800 933 4421 Australia 1 800 801 161 and international calls 1 323 655 6121.
Download Christian Leaders Tour Planning Guide.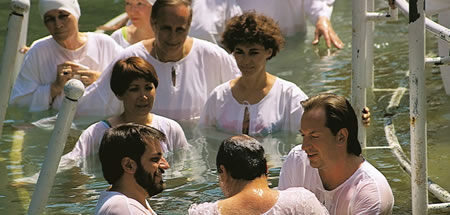 A trip to the Holy Land is a ones in a lifetime opportunity to walk in the footsteps of Jesus for you and your congregation. Everyone and especially Christians should visit at least one time in their life. What other place on earth can offer such meaningful spiritual experience where you can pray, worship, weep, rejoice, and heal, than the Land of the Bible. From the Jordan River, when Jesus was baptized, and a voice from heaven said "This is my Son, whom I love; with him I am well pleased." (Matthew 3:17), to the Galilee, where Jesus delivered the Sermon on the Mount (Matthew 5-7), to Jerusalem where you can take time to reflect the Lords sacrifice for all of us; at the Via Dolorosa, the Garden Tomb, and to the Mt. of Olives, where Jesus ascended in to heaven (acts 1). Let us help you lead to the Holy Land and prepare for an experience you'll never forget.
Read our Reviews from Facebook, Google Business Reviews, Yelp